Novels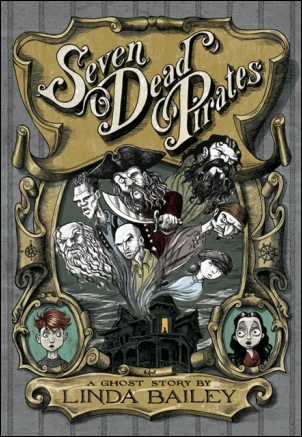 Seven Dead Pirates
cover by Dan Holst Soelberg
published by Tundra Books
The hero of Seven Dead Pirates is 11-year-old Lewis Dearborn. Lonely, "terminally shy" and fussed over constantly by overprotective parents, he's a bit of a wreck. But when his family inherits a ramshackle old mansion by the sea, Lewis's life changes abruptly. He claims a romantic, isolated tower for his bedroom and moves in, not knowing that the room is already occupied — by seven dead pirates! Not only that, the ghosts expect him to help them recover their ship, now restored in a local museum. Lewis is sure he's the last boy on earth to lead such a mission . . .

"Piratical fun well-stocked with colorful cast members, living and arrghh!" Kirkus (starred review)

"This rollicking tale moves apace with a vivid setting, surprising depth, great humor, and memorable characters . . . don't miss this treasure of a middle-grade yarn." School Library Journal (starred review)
"Bailey expertly taps into the anxieties that ferment during the back-to-school season in this touching and hilarious ghost story." National Post
"At times earnest, at times playful, and always infused with the power of imagination, Seven Dead Pirates is a rollicking and exciting story that will entertain and enlighten in equal amounts." CM Magazine

New | Picture Books | Stanley | Good Times Travel Agency | Stevie Diamond

Website © Linda Bailey, 2007
Art by Bill Slavin © Bill Slavin, 2007
All rights reserved.