Picture Books
A picture book begins with a thought that tickles my fancy or touches my heart. Then come the words. Sometimes it's hard to get the words right because they have to leave room for the pictures. And oh my . . . the pictures! I'm dazzled by the talents of the wonderful artists who have illustrated my words.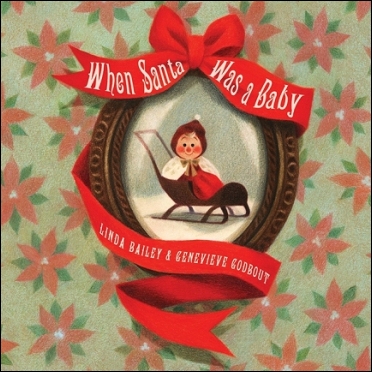 When Santa Was a Baby
pictures by Genevieve Godbout
published by Tundra Books
Everybody was a baby once — even Santa Claus! But what kind of baby was he? And what was he like as a child and a teenager? In When Santa Was a Baby, it becomes clear that Santa knew his own mind from a very young age. From his fondness for the colour red, to his interest in chimneys, to his habit of giving his toys away . . . Santa was unusual right from the start. A warm, funny story about an oddball boy who succeeds.

"Bailey and Godbout give Santa Claus a backstory in this sweetly funny account, warmly illustrated with soft, nostalgic pencil and pastel artwork . . . The result is a clever take on the Santa myth that develops him as a character with his own thoughts and motivations." Publisher's Weekly (starred review)
"He's an unusual baby: a booming voice, an interest in chimneys, a penchant for standing naked in front of the open refrigerator, enjoying the chill . . . With retro-esque art featuring people whose giant black eyes look ever so slightly crazed, it's a sweet, gently satirical answer to the eternal question, How did Santa become Santa?" New York Times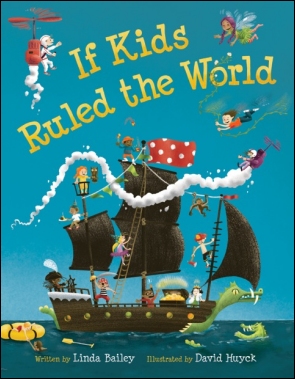 If Kids Ruled the World
illustrated by David Huyck
published by Kids Can Press
How would the world be different if kids were in charge? This picture-book utopia offers up some of the most cherished dreams of childhood — a world in which everyone would live in a castle, every back yard would have a lake, and every lake would have a treasure island. Kids could go to Recess School, and bedtime wouldn't even exist. Best of all, no one would ever forget how to play!

Winner, Ontario Blue Spruce Award, 2016


Winner, Saskatchewan Shining Willow Award, 2016
"This warm piece of speculative fiction is tailor-made for both circle-time reading and spurring class projects. Bailey's what-ifs run the gamut from calendar and nutritional reform to the legalization of transgressive behavior and vastly increased personal agency . . . Never once does a kid yearn for a world with more screen time . . . If that is indeed what would happen if kids ruled the world, let's welcome them as our new overlords." Publishers Weekly
"Every page features a child's dream come true. It guarantees an abundance of ooohs, aaahs, and even cheers and will rev up imaginations about all kinds of fun things kids might do if they were in charge. . . this is a surefire winner. Some books are built purely for fun, and this is one of them." School Library Journal
"This book is fun, playful, imaginative and I can just hear the "YES's" coming from the class! A perfect anchor book for inspiring writing and art! Love!" Adrienne Gear, author of Reading Power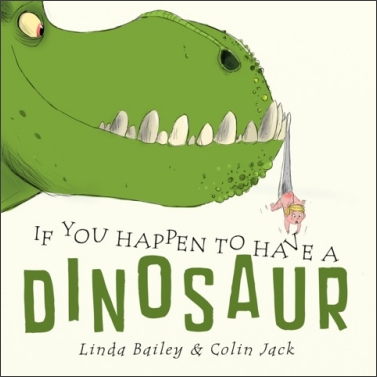 If You Happen to Have a Dinosaur
illustrated by Colin Jack
published by Tundra Books

What if you had a dinosaur, just lying around your living room, eating you out of house and home — and doing absolutely nothing? How could you harness that dino's energy to help out around the house and yard? As kids read the possibilities and laugh at their absurdity, they will inevitably create their own scenarios as well. Here's an exciting way for young dinosaur-lovers to think outside-the-box!

"This playful picture book encourages children to contemplate the "oodles of things you can do with a dinosaur" through a subtly ironic narrative that speaks directly to them. . . Buried in all the rambunctious fun, the story leaves young ones with a message that can be applied to real-life situations: if you take the time to think critically and creatively, you can make effective and logical choices." Booklist
"There aren't many books that have the courage to be this silly. Simply wonderful." The Globe and Mail
"Do you happen to have a dinosaur lying around? . . . From can openers to umbrellas to kites, the silly uses for dinosaurs will amuse and engage emergent readers . . . Highly enjoyable and encourages the use of imagination to envision additional scenarios." Canadian Materials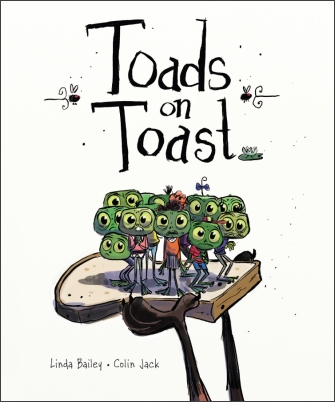 Toads on Toast
illustrated by Colin Jack
published by Kids Can Press

Fox is bored with his same-old diet of big fat toads for dinner. He decides to look for small toads, young and tender, instead. He catches a lovely sack of fresh young toadlets and is just checking his recipe books — toad stir-fry, toad muffins, toad legs — when Mamma Toad shows up. Can she find a way to keep her babies off Fox's menu?

Winner, B.C. Chocolate Lily Award, 2013/14


Nominee, Saskatchewan Shining Willow Award, 2013/14


Toronto Public Library, First & Best Books for 2012
"Bailey's dialogue is snappy and amusing, and the illustrations recall the scrappy TV-animation style of Chuck Jones. Never heard of "toads on toast"? Some people call it a hole-in-the-middle, and happily, a recipe is included."
New York Times
"Some of your students will want to start cooking before you've finished the book .... almost 100 percent of your students will want to hear the book again." Kirkus Reviews
"Crackerjack dialogue . . . loose, humorous cartoons . . . Children in foodie households accustomed to discussions of how dishes are prepared will take to this-—and they'll probably enjoy Toad-in-a-Hole, too." Publishers Weekly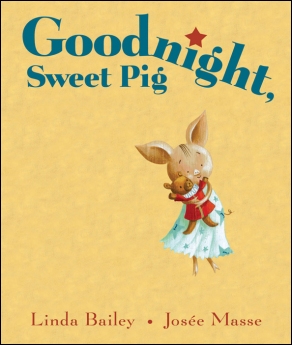 Goodnight Sweet Pig
illustrated by Josée Masse
published by Kids Can Press

Pig number one is trying to sleep, plumping her pillows and counting sheep. But what chance does she have with nine other pigs crowding into her room? Here's a chance to count to ten and back again with a crowd of rowdy pigs who eventually bring sweet dreams.

Ontario Library Association, Best 10 Picture Books of 2007


Toronto Public Library, First & Best Books for 2007
"The story is told in a simple rhyme…The illustrations are bright and humorous…Goodnight Sweet Pig would not only help small children learn their numbers but would also make an excellent bedtime story for restless children." School Library Journal
"The allusions to Hamlet may go right over the heads of the book's intended audience, but won't escape the notice of the adult reader. There's something here for everyone, then, in a visually appealing bedtime book that counts to ten and then all the way back again." Toronto Globe & Mail
The Farm Team
illustrated by Bill Slavin
published by Kids Can Press

The animals on Farmer Stolski's farm love hockey. They dream of winning the Stolski Cup! But for fifty years, they've been losing to the nastiest, mangiest, smelliest bunch of varmints in the North — the Bush League Bandits. Is this the year their luck will change?

OLA Best Bets, Top 10 Canadian Children's Books 2006


Shortlist, Ruth & Sylvia Schwartz Children's Book Award, 2007


Honour Book, Ontario Blue Spruce Award, 2008
"A sassy, well-crafted story… Bailey and Slavin have produced a gem of a picture book that will remain popular for as long as hockey underdogs continue to compete for Lord Stanley's famed cup." Quill & Quire
"Bailey's story reads aloud well, while Slavin's artwork captures its drama and humor in a series of action-filled acrylic paintings… Every child who has watched a bigger, brawnier opposing team take the field will feel for the plucky Farm Team." Booklist
"The surprise ending will bring cheers from the crowd as they ask for repeated readings." School Library Journal
New | Novels | Stanley | Good Times Travel Agency | Stevie Diamond

Website © Linda Bailey, 2007
Art by Bill Slavin © Bill Slavin, 2007
All rights reserved.