NEWS
September 22, 2017

Welcome to Under-the-Bed Fred!
Under-the-Bed Fred is a new chapter book for the early grades.
From the moment I started to write this book, I felt that I knew Fred well. Why? Because the story is so firmly rooted in my own childhood fears of that "thing" that hides under beds, peeks out of closets, and lurks behind furnaces in the basement. For me, the "thing" was a shape-shifter, but it usually manifested as some kind of wild animal — lion, tiger, wolf. If pressed to explain how such a creature could have ended up under my bed, I would have had a ready answer. The Winnipeg Zoo. Obviously! I had been there. I had seen the animals. Clearly, this one must have escaped, stealthily finding its way to my house and sneaking in through the old coal chute.
Well, that was then. And now, after all these years . . . here's Fred, turning up in a book! He's the "thing" that hides under Leo's bed. And Leo, like me all those years ago, is obliged to leap from his bedroom door into bed to avoid getting his ankles grabbed. He doesn't dare dangle an arm over the side of his bed. Nor can he get up to pee at night.
But unlike the youthful Linda, Leo tackles his problem head-on. "Hey, you!" he eventually says to the monster. And so the conversation starts . . . and with it, one of those symbiotic odd-couple relationships that are such fun to write. Leo has things to teach Fred. Fred has things to teach Leo.
It's about friendship. The first in a series.

May 1, 2017

Two New Books for Spring, 2017! YAAAY!
Carson Crosses Canada is a brand new sesquicentennial book. Happy 150th birthday, Canada!
Carson the dog and his friend-and-driver Annie Magruder take a cross-country trip across Canada. From Tofino, BC to Witless Bay, Newfoundland, they drive coast-to-coast to visit Annie's ailing sister Elsie. "Are we there yet?" barks Carson. Along the way, they see, hear, smell, touch and taste the grandest land of all — Canada! From dinosaurs in Alberta to tourtiere in Quebec to tidal flats in New Brunswick, Annie and Carson enjoy every moment. And at the end? A wonderful surprise for Carson! Stunningly illustrated by Kass Reich, published by Tundra Books, this book will arrive in bookstores on May 30.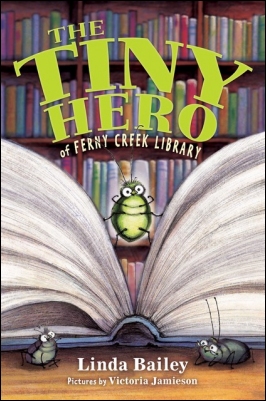 The Tiny Hero of Ferny Creek Library is the story of a very small character with a very big heart. Eddie is a bug who lives in Room 19 of Ferny Creek Elementary School with his parents, his Aunt Min and his 53 brothers and sisters. Unusually for a bug, he has learned to read. So when Aunt Min disappears in the Library, Eddie bravely sets off to find her — a perilous journey! Along the way, there are gigantic big-footed Squishers (humans) who could squish a bug in two seconds flat. When Eddie finally arrives at the Library, he finds his poor aunt injured. Even worse, a nasty plan is afoot to close the Library forever. What can one tiny book-loving bug do? Published by Greenwillow Books in the U.S. and Tundra Books in Canada and illustrated by Victoria Jamieson.
February 25, 2017

Exciting Nominations for 2017!

So proud to have books nominated for these wonderful 2017 Canadian readers' choice awards:
Ontario Blue Spruce Award: Stanley at School
Saskatchewan Shining Willow Award:


When Santa Was a Baby


If You Happen to Have a Dinosaur
BC Chocolate Lily Award (picture books):


When Santa Was a Baby


Stanley at School
In the novel category, Seven Dead Pirates has been nominated across Canada (and beyond) for the following awards:

BC Red Cedar Award


Ontario Silver Birch Award


Manitoba Young Readers Choice Award


Atlantic Provinces Hackmatack Award


Saskatchewan Diamond Willow Award


Alberta Rocky Mountain Book Award


BC Chocolate Lily Award


Maine Student Book Award
Many thanks to all the organizers, and happy reading to participants!
June 1, 2016

A Springtime of Good Fortune
Oh, wow! I have had such a wonderful spring. The children's choice awards across Canada are always amazing, and this year some of my books have been fortunate enough to be voted by Canadian kids as their favourite.
I'm delighted to announce that If Kids Ruled the World has won the Saskatchewan Shining Willow Award. Here's a photo of the beautiful "willow tree" that now sits proudly on top of my bookcase. Huge thanks to all those young readers in Saskatchewan...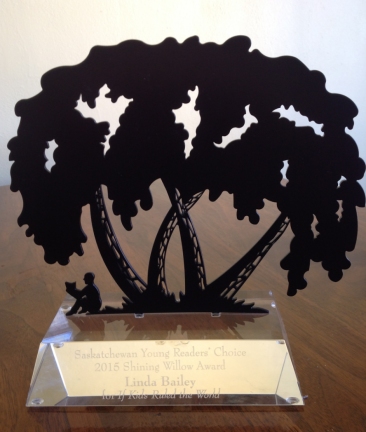 Adding to the excitement, a few days later If Kids Ruled the World won the Ontario Blue Spruce Award. Illustrator David Huyck and I were lucky enough to both be in Toronto for the announcement. This was the first time we've ever met. What a complete sweetie! (He's every bit as friendly as he looks.)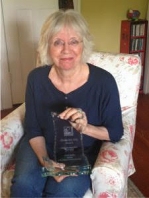 Good luck must really come in threes because soon afterwards I learned that If You Happen to Have a Dinosaur won the BC Chocolate Lily Award. Chocolate Lily readers, thank you so much for your votes.
And now I will just sink back in my flowered chair and pinch myself a few times. This has been one terrific spring. Thanks to all!


November 2, 2015
Stanley at School Trailer
Stanley is back — and this time he's going to school. Check out this trailer of Stanley at School to find out what happens when Stanley and his pals sneak into a local school. One thing's for certain: Stanley + School = TROUBLE! Enjoy this preview of the sixth book in the Stanley series.


Website © Linda Bailey, 2007
Art by Bill Slavin © Bill Slavin, 2007
All rights reserved.