NEW BOOKS!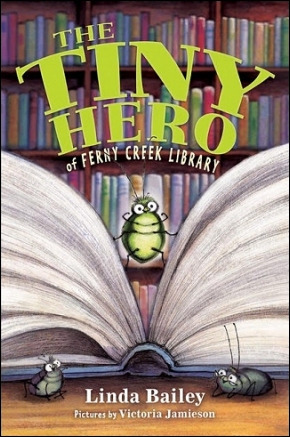 The Tiny Hero of Ferny Creek Library
pictures by Victoria Jamieson
published by Greenwillow Press (USA) / Tundra Books (Canada)
Eddie is a bright green bug who lives in Room 19 of Ferny Creek Elementary School with his parents, his Aunt Min and his 53 brothers and sisters. Unusually for a bug, he has learned to read. So when Aunt Min disappears in the Library, Eddie bravely sets off to find her — a perilous journey! Along the way, there are gigantic big-footed Squishers (humans) who could squish a bug in two seconds flat. When Eddie finally arrives at the Library, he finds his poor aunt injured. Even worse, a nasty plan is afoot to close the Library forever. What can one tiny book-loving bug do?

"Bailey fills her narrative with references to classic works of the past and present and has picked a theme and outcome that will be dear to the hearts of young readers as well as educators and librarians." Booklist, starred review
"This effort will charm library lovers and would make a fine read-aloud, as brave, endearing Eddie navigates one terrible peril after another. An excellent engaging tale for a broad range of ages." Kirkus
"A warm, funny tribute to the power of books and stories, Eddie's adventure will have readers seeing anew the magic of libraries and ready to defend them from the Ms. Visches of the world." Bulletin of the Center for Children's Books
"The writing is breezy and accessible, and children will enjoy the bug's-eye view . . . a good choice for younger readers and would work well as a classroom read-aloud." School Library Journal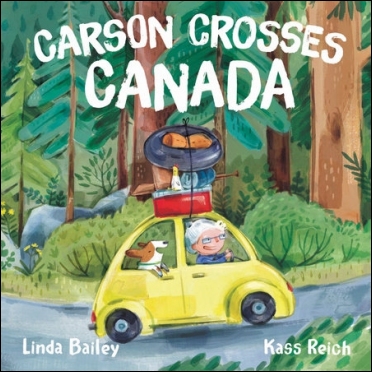 Carson Crosses Canada
illustrated by Kass Reich
published by Tundra Books

Join Carson the dog and his friend-and-driver Annie Magruder as they take a cross-country trip across Canada. From Tofino, BC to Witless Bay, Newfoundland, they drive coast-to-coast to visit Annie's ailing sister Elsie. "Are we there yet?" barks Carson. Along the way, they see, hear, smell, touch and taste the grandest land of all — Canada! From dinosaur bones in Alberta to tidal flats in New Brunswick, Annie and Carson enjoy every moment. And at the end, there's a wonderful surprise for Carson. Share this book as you celebrate Canada's 150th birthday!
"Readers will enjoy the levity Carson brings to this journey from coast to coast as they learn about the diverse regions of the country through the illustrations and the map on the end papers." School Library Journal
"Classic dog humour abounds, such as when Carson leaves behind "a little souvenir of his own" at a rest stop. . . . Repeated words and descriptions stitch the story together beautifully." Quill & Quire
"A fun book that celebrates the idea of getting in a car and driving somewhere." Ken Setterington, "The Next Chapter," CBC Radio 1
"There is much humour in both the text and the pictures. Bailey really knows how to tickle a young funny bone: imagine finding out that in Quebec Carson is not a dog but a chien, and that tourtiere is French for a really delicious meat pie? But Bailey and illustrator Kass Reich show a reverence for their subject, too." Canadian Materials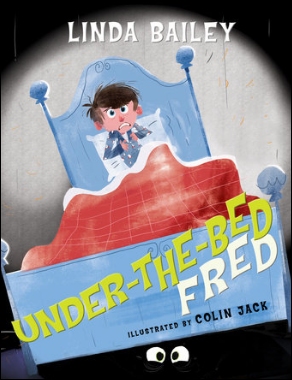 Under-the-Bed Fred
illustrated by Colin Jack
published by Tundra Books

A new chapter book for the early grades!
There's a monster under Leo's bed, and it's making Leo nervous. How can he go to the bathroom without getting his ankles grabbed? So one night, when he really, really has to go, he boldly calls out. "Hey, you!"
To Leo's surprise, the monster answers. And so begins a hilarious odd-couple friendship as Leo gets to know his under-the-bed roommate. In five short chapters, Leo and Fred work out their differences, deal with bullies and come up with the best idea ever for show-and-tell at school. An early-reading adventure focussing on friendship, fun and facing one's fears!
"Under-the-Bed Fred incorporates themes of friendship, bullying, and school angst, offers satisfying conclusions, and gives readers good reason to empathize with Leo and his alter ego, Fred. A welcome new pair of friends for the chapter-book set." Kirkus
"An appealing odd-couple story that doesn't skimp on physical comedy." Publishers Weekly

Picture Books | Novels | Stanley | Good Times Travel Agency | Stevie Diamond

Website © Linda Bailey, 2007
Art by Bill Slavin © Bill Slavin, 2007
All rights reserved.